Honeywell's ES110 Series and ES120 Series are a modular range of inflow thermistor-based sensors specifically designed for use in the transportation industry.
Thermistors can be very effective in sensing temperatures of gases, liquids or solids because of their enhanced sensitivity, accuracy and reliability.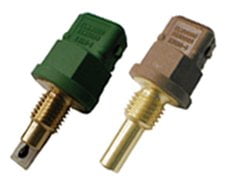 The ES110 Series air/gas sensor has an exposed thermistor element that offers enhanced response for greater levels of control, while the ES120 Series is primarily used for immersion temperature measurements. Its fully enclosed brass body makes it often ideal for applications requiring direct contact with liquids.
Robust and easy-to-install threaded packaging often provides reliable operation in harsh application environments. Fast response times over a wide operating temperature range of -40 °C to 150 °C [-40 °F to 302 °F] allow application flexibility.
FEATURES
• Air/gas or immersion sensing
• NTC (Negative Temperature Coefficient) or KTY (siliconbased positive temperature coefficient) type outputs
• Enhanced sensitivity
• Enhanced accuracy
• Enhanced reliability
• Robust packaging
• Fast response
• Wide operating temperature range
• Easy installation
• Customizable
POTENTIAL APPLICATIONS
• Transportation: engine coolant, oil temperature, air intake, fuel and engine block sensing
• Industrial: compressor, duct, hydraulic oil temperature sensing
Enquiry Form: http://www.epreston.co.uk/enquiries.php
Home Page: http://www.epreston.co.uk/epblog/