New to Arcolectric's range of Push Button switches is the 4100 Series Key Operated Push Button switch. With up to 100,000 mechanical operations this switch is suitable for frequent functional use.
These switches are ideal for use in applications such as vending machines. Where the maintenance locking key can be used to retain the switch connnection by depressing the plunger enabling the power to be maintained whilst the door is in the open position.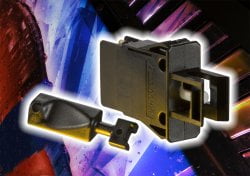 The 4100 series is available with single or double pole switching with momentary action plunger operation and either 4.8 or 6.3mm faston connections.
The large over-travel feature built into the 4100 Series Switches allows it to accommodate substantial production tolerances.
This switch is rated up to 16.5A 400Vac T85 and has ENEC approval to 50,000 electrical operations. The panel cut out size is 37 x 13.5mm, however this switch can also be screwed to the panel on 22mm fixing centres.
Also available for use with the 4100 Series is a separate connector block. This reduces assembly time by allowing the wiring to become an integral part of the wiring harness.
Enquiry Form: http://www.epreston.co.uk/enquiries.php
Home Page: http://www.epreston.co.uk/epblog/