ECO – The smart choice for your demanding power entry requirements
Schurter's new 20A IEC inlet with EMI filter, series 5130 ECO design, meets the increasing demands of  IT, medical and industrial appliances. The new ECO design provides cost savings and maximum performance in a lightweight and environmentally friendly compact package. 
The 5130 combines an IEC C20 inlet with line filter in various mounting styles. The positive electrical contact of the broad metal flange to the chassis ensures optimal filtering and shielding. The units are available with current ratings 20A or 16A, depending on attenuation requirements. In addition to the standard version, medical filters with low leakage currents of <5uA, as well as types with X1 and Y1 capacitors for enhanced withstand voltage, are also offered.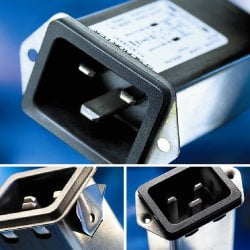 Mounting options include a front or rear version for traditional screw and nut mounting or rivet mounting. A version specifically for rear mounting features pre-formed threaded holes for M3 screws, which eliminates the handling of nuts and reduces labor costs. These benefits can also be achieved with the snap-in mounting style. Terminals accept 6.3×0.8 mm quick-connect tabs.
The increasing function and power density of todays IT, medical and industial applications leads to higher energy consumption. The 5130 ECO is the optimal solution, combining uncompromised features and performance with compactness of design to meet this growing demand.
The series is ENEC and cURus approved and complies with IEC/EN standards for office and medical equipment, 60950 and 60601-1 respectively.
Enquiry Form: http://www.epreston.co.uk/enquiries.php
Home Page: http://www.epreston.co.uk/epblog/