Explosion-proof switches help customers meet increasing safety, regulatory requirements anywhere in the world.

Honeywell announced it has received Electrotechnical Commission (IECEx) approval for its MICRO SWITCH™ BX explosionproof switch products. With IECEx approvals, manufacturers can specify one Honeywell MICRO SWITCH™ BX-series switch for a machine that will potentially be used in Europe, Asia or North America.
IECEx is the Commission's certification of explosive atmospheres, and incorporates all existing approvals. Current North American UL/CSA and European ATEX approvals are being superseded by IECEx recognition. Honeywell's explosion-proof switch family obtained certification from the official global regulatory agency.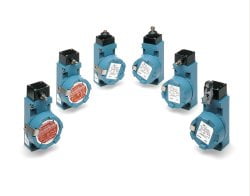 "The global nature of approvals is critical to pull together many countries' and territories' regulatory requirements," said Leslie Neill, global product marketing manager for Honeywell explosion-proof and safety switches.
"This allows our customers to apply our products almost anywhere in the world and meet ever-increasing levels of safety regulations. Honeywell offers a wide range of differentiated solutions to meet virtually any application requirement," explained Brad Kautzer, vice president and general manager of electromechanical line of business for Honeywell Sensing and Control.
By obtaining the newest global standard for safety, Honeywell customers around the world can be assured their explosion-proof switches may meet all local safety regulations.  Honeywell BX Series explosion-proof limit switches are rugged products used in hazardouslocations, such as control valves in petrochemical, waste handling or food processing plants.  Honeywell MICRO SWITCH™ explosion-proof limit switches may be most appropriate for use in dangerous environments where contamination or long distances may render other sensing technologies ineffective.
 
Enquiry Form: http://www.epreston.co.uk/enquiries.php
Home Page: http://www.epreston.co.uk/epblog/