Finder has announced the 13.12 Call and Reset Relay, which is designed to activate an alarm at a remote point and provide local indication of activation. The relay will be of particular interest to designers and installers of attendant call systems in hospitals and care homes, and to contractors involved in the provision of facilities into residential and commercial buildings where occupants may need to call for assistance.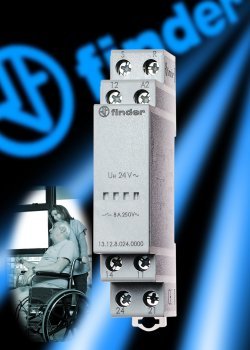 An ageing population is creating a growing demand for both short-term and long-term facilities providing care and supervision – hospitals, care homes, assisted living developments, hotels and similar premises – and the means to summon assistance in these facilities is a fundamental requirement. The 13.12 relay is a conveniently packaged product that addresses this need, and which can easily be installed in new buildings or retrofitted in existing sites.
The 13.12 features dual outputs, offering the facility for both a remote alarm signal and a local indication of activation to be activated simultaneously. Independent set and reset inputs provide flexibility in the location of activation and acknowledgement points. The relay output contacts are rated at 8A, which means that they are capable of directly switching incandescent lamp loads up to 800W. Set and reset inputs are both continuously rated, so that no damage is caused to the product if it is inadvertently left permanently activated. The relays are suitable for 35mm rail or panel mounting if an additional bracket is used. The length of the cable run between the set/reset points and the unit can be up to 100m, allowing multiple units to be placed in a convenient centrally located control panel for ease of maintenance and space saving.
The 13.12 relays are housed in a compact 17.5mm single unit width rail mounting enclosure.
Enquiry Form: http://www.epreston.co.uk/enquiries.php
Home Page: http://www.epreston.co.uk/epblog/