Schurters FUA vertical PCB mount shock-safe fuseholder, offers an enhanced rated power acceptance and rated current. The FUA offers the same specification and drilling diagram as the successful horizontal mounting FUP range, having has a rated power acceptance of 4 W @ 16 A @ 23C which is unique in the market for PCB shock-safe fuseholders.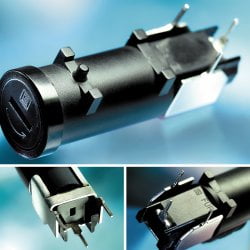 The new fuseholder is RoHS compliant and is approved by VDE for 500 VAC, 16 A and by UL/CSA for 250 VAC, 30 A. Fuse carriers are available for either 5×20 mm or 6.3×32 mm cartridge fuses, and it is delivered in a cardboard box of 25 pieces.
Via it's 500 VAC approval at VDE, the fuseholder is suitable for three-phase systems applications utilising 6.3×32 mm fuses. It also suits the market for high current single-phase protection up to 16 A. potential applications in this field include HVAC (heating, ventilation and air conditioning) systems, power supplies, frequency converter and medical appliances.
Enquiry Form: http://www.epreston.co.uk/enquiries.php
Home Page: http://www.epreston.co.uk/epblog/