To provide convenient cost-effective solutions for electrical distribution applications where a switched neutral is needed, Moeller Electric has expanded its popular and versatile range of xStart contactors to include new four-pole models. The new DILMP models cover AC1 current ratings from 22A to 200A in just four frame sizes, the new four-pole contactors feature identical dimensions for AC- and DC-operated versions, thereby simplifying panel design and construction.
Ideal for use in mains/standby changeover, heating control, and distribution systems for IT installations, xStart four-pole contactors, like their three pole counterparts, have specially designed low consumption coil assemblies.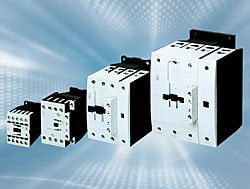 Not only do these innovative coil systems reduce heating in the control panel and energy consumption, they also make it possible for contactors up to 45A to be controlled directly from inexpensive low current PLC outputs, thereby eliminating the need for inconvenient interposing relays or costly high-power output modules.
The use of the contactors with PLCs is further simplified by the integrated suppressor which is included as standard in all DC-operated versions.
The new contactors feature space-saving compact construction, are designed to make wiring fast and easy. Access to the coil terminals is at front-plate level and, for additional convenience and safety, double-chamber screw-clamp terminals are used throughout.
Moeller Electric offers a wide range of accessories for use with its new four-pole xStart contactors. These include mechanical interlocks for vertical and horizontal configurations, which need no additional space to be allowed between the contactors; auxiliary contacts in standard and early-make/late-break versions; suppressors for AC-operated types; and insulating shrouds.
To maximise user convenience, the new four-pole contactors use the same accessories as three-pole models in the xStart range.
Manufactured to the highest standards, xStart contactors are designed to provide maintenance-free operation for a mechanical life of at least 10 million operations. They comply with all relevant sections of IEC60947, as well as with appropriate UL and CSA requirements. In addition, they carry the CE marking.
Enquiry Form: http://www.epreston.co.uk/enquiries.php
Home Page: http://www.epreston.co.uk/epblog/