Finder has announced the launch of the 97.11 and 97.12 sockets for PCB mounting of its 46 series miniature industrial relays. These sockets allow engineers designing power control equipment to mount a plug-in power relay with robust terminals in a simple manner onto a PCB. They are particularly suitable for circuit boards where the ability to change power relays quickly is essential for maintenance and the minimising of downtime in the event of a fault.
There is a growing trend towards the use of PCBs in power control applications, but engineers wish to maintain the benefit of rapid component replacement that they enjoy with traditional plug-in rail mounted components – this is the need addressed by these new additions to the 97 Series of sockets.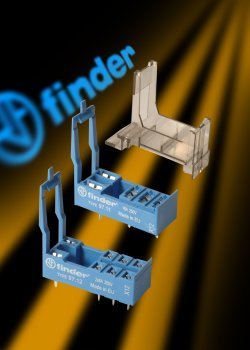 The 97.11 and 97.12 sockets have a small 12.4mm x 32mm footprint, minimising board space requirements, and maintain the full 6kV coil-to-contact isolation specification of the relay. An integral retaining clip ensures that the relay is firmly retained when used in applications where they may be subject to shock or vibration, and the sockets carry C UR approval for the US.
The 46 Series relays, which fit the sockets, includes both single-pole and two-pole contact configurations for use in control panels and systems. The relays are fully terminal-compatible with the de-facto industry standard, with Faston spade/blade terminals that provide secure and reliable connections between the relay and the 97 Series socket.
The new sockets complete the line up of 46 series relay mounting options that already include a range of 35mm rail mounting sockets – the 97.01 and 97.02 screw connection models and the 97.51 and 97.52 screwless connection versions – as well as flange-mounting and direct-rail mounting adaptors that allow the use of either Faston or soldered connection to the relay terminals. All the 97 Series rail mounting sockets will accept the full range of 99.02 coil indication and suppression modules and the 86.30 bi-function, multi-range timer modules.
Enquiry Form: http://www.epreston.co.uk/enquiries.php
Home Page: http://www.epreston.co.uk/epblog/