October 25, 2007 – Crydom, an operation of Custom Sensors & Technologies (CST), announces the first solid state relays available on the market with UL approved short-circuit current ratings (SCCR). These relays facilitate industrial control panel builders' efforts to comply with the new article 409 from NEC and the latest version of UL508A, both request SCCR marking, by providing them with pre-approved ratings for SSR/fuse combination.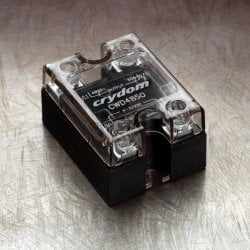 According to Dr. Oscar Montero, from the Crydom Global Technical Center, "Standard 5kA SCCR on power devices prevents panel builders from offering panels with higher ratings. Panels with a higher SCCR could be connected to electrical systems with different available currents bringing market advantages for panel builders. However, establishing a higher SCCR may represent significant challenges and additional costs for panel builders."
Crydom's approved ratings allow panel builders to establish the SCCR for the branch circuit where the relay is located without performing additional testing. The ratings can be added directly to the manufacturer's procedure. Hence, effectively reducing the time-to-market cycle for the panel and cost associated to compliance.
Crydom has obtained UL approval for SCCR by testing the combination SSR/Fuse under the "umbrella fuse" requirement allowing more flexibility to Crydom customers to mix and match SSR and fuses of different ratings.
Enquiry Form: http://www.epreston.co.uk/enquiries.php
Home Page: http://www.epreston.co.uk/epblog/