Schurter's TA35 series introduces a new generation of Circuit Breakers for Equipment. The breakers are available in 1-, 2- or 3-pole arrangements and stand out through their compact form and attractive design. The rocker-actuating switch can be supplied either with or without illumination in six different colours with various legends or customer specific symbols. The breakers have been designed for efficient snap-in mounting, fitting panel thicknesses ranging from 1 to 4 mm. Connections are made with 6.3 x 0.8 mm quick connect terminals.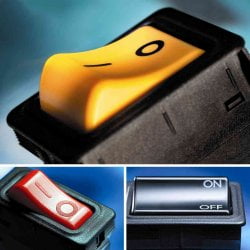 The TA35 provides both the function of a switch as well as thermal overload protection. It has finely graduated rated currents of 0.05 A to 20 A for the 1- and 2-pole types, or 0.05 A to 12 A for 3-pole versions. An optional protective cover gives a protection class of IP 65, making the unit suitable for applications exposed to dust or splashing water; typical applications are laboratory equipment for chemical and medical applications, wood and masonry processing machines, construction site equipment, power generators, cleaning equipment, food-processing equipment and appliances.
The new circuit breaker series is approved according to IEC 60934, UL 1077 and CSA C22.2 235 and has received or is pending VDE, cURus and CCC approvals.
Enquiry Form: http://www.epreston.co.uk/enquiries.php
Home Page: http://www.epreston.co.uk/epblog/