Schurter is pleased to announce the new series 5003 Filtered Power Entry Module for DC applications.  The new, compact filter is designed for DC power supplies used in Information Technology Equipment. The 5003 features a standard DC connector offered in two different connector styles.
The connector is encased with a 1-stage filter for rated currents 3, 6, 10 and 15A. It provides an outstanding wide-band absorption rate in frequencies ranging from 100 kHz to 30 MHz. The unit mounts to the equipment enclosure with a metal flange, thus providing a large contact area for optimal shielding of the panel opening. A version for front or rear mounting is secured using screws and nuts, or rivets.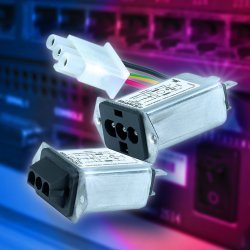 A version specifically for rear mounting features pre-formed, threaded holes for M3 screws. This version eliminates the requirement for nuts, reducing costs and automating assembly. The 5003 fulfills the requirements of IEC/EN/UL 60950 for use in IT equipment, and is pending certification according to UL/CSA up to 15A at 125VDC. Applications include LAN and WAN devices, such as routers, switches and multiplexers.
Enquiry Form: http://www.epreston.co.uk/enquiries.php
Home Page: http://www.epreston.co.uk/epblog/