Finder has announced the launch of the 93.21 series multifunction timer socket, for use with the 34 series electromechanical and solid-state relays. The sockets are aimed at panel builders, systems integrators, OEMs and installers of control systems for machines and processes, and also for applications in building management systems (BMS). They are particularly suitable for use where space constraints are a major consideration, or where rapid output switching and long operational life are required.
The ultra slim sockets are only 6.2mm in width, making them ideal for use in systems where the available mounting space is minimal. Their multifunction and multirange capabilities, along with the ability to accept either plug-in electromechanical or plug-in solid-state relays, means that a single socket model is suitable for a wide range of applications, with the added benefit that the switching element is easily replaceable.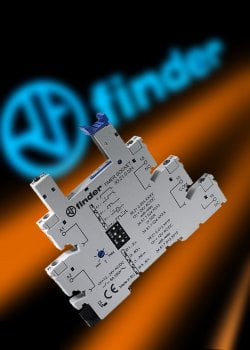 The timer sockets feature 4 time ranges with intervals ranging from 0.1 – 3s up to 0.3 – 6 hours, and 4 selectable timing functions – ON delay; ON pulse; Symmetrical recycling with ON start; and fixed pulse delayed. Precision of regulation over the entire scale is specified as ±5%, and maximum switching capacity is 6A.
The 93 series timer sockets operate at a DC or AC supply voltage in the range 12 – 24V. Both screw and screwless termination options are available for flexibility in integrating with both types of wiring system, and a tamper proof setting mechanism avoids accidental maladjustment. The sockets can be used with 20 way jumper bars, which helps to save time in wiring common connections.
Enquiry Form: http://www.epreston.co.uk/enquiries.php
Home Page: http://www.epreston.co.uk/epblog/