Finder has announced the introduction of the 41.81 series of solid-state relays, which offer silent, high-speed switching of AC or DC loads, to meet the need for relays that operate reliably at rapid machine cycle rates, with minimum maintenance and without incurring mechanical wear.
The 41.81 series is aimed at designers and system integrators of automation and processing equipment, including mechanical handling, assembly and filling machines, and will be particularly suited to applications requiring high operating speed and long electrical life, especially those where silent operation is also desirable.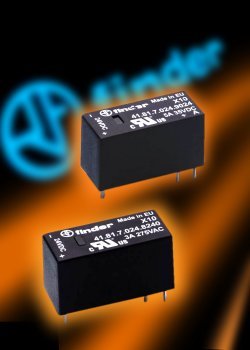 The solid-state relays are available in AC and DC output switching types. Type 41.81-9024 switches 1.5V to 35V DC, nominally 24V, at current levels up to 5A. Type 41.81-8240 switches 240V AC nominal (12 – 275V max.) at 3A, and features zero crossing switching to minimise electrical interference. Both models feature a low power 0.2W coil. Maximum peak current is rated at 120A for a period of 10ms, making the relays suitable for use with high inrush inductive or capacitive loads.
The relays are housed in a small, low profile, wash-tight RT111 package with an industry standard pin layout. The package offers flexibility in mounting options: it is suitable for mounting either directly onto a PCB or into a 93 series socket, which in turn can either be fixed to a PCB or mounted onto a 35mm DIN rail.
Enquiry Form: http://www.epreston.co.uk/enquiries.php
Home Page: http://www.epreston.co.uk/epblog/