Based on the latest xStart DILM contactors, which have mechanical lives in excess of ten million operations and are fitted with durable RMQ Titan pushbuttons, Moeller Electric's new enclosed motor starters combine exceptional reliability with compact dimensions and very competitive pricing.
In addition, because the starters are designed and built in the UK, they fully address the specific needs of UK users, and excellent availability is guaranteed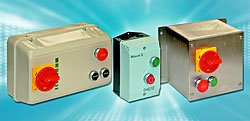 Standard products in the new Moeller Electric enclosed motor starter range include direct-on-line types with ratings from 4kW to 11kW, direct-on-line reversing types with ratings of 4kW and 5.5kW and star-delta types with ratings from 5.5kW to 15kW. The starters are available in 230V and 400V versions for use on 50Hz supplies.
The starters come complete with or without an isolator and are supplied fully wired, requiring only the addition of an overload relay – which mounts directly on the contactor – to be ready for immediate use. All models are offered in insulating or stainless steel enclosures with an IP65 ingress protection rating, or in sheet-steel enclosures which have an IP55 rating.
Moeller Electric's new enclosed motor starters are designed to provide long maintenance-free service lives. Customised versions to meet requirements which are not covered by the standard models are available on fast deliveries and at attractive prices.
Enquiry Form: http://www.epreston.co.uk/enquiries.php
Home Page: http://www.epreston.co.uk/epblog/