New to the Finder range of energy consumption meters is the three-phase 7E.36 Series, which includes single and dual-tariff kWh models for the measurement, recording and display of power consumption in individual sub-circuits at current levels up to 65A.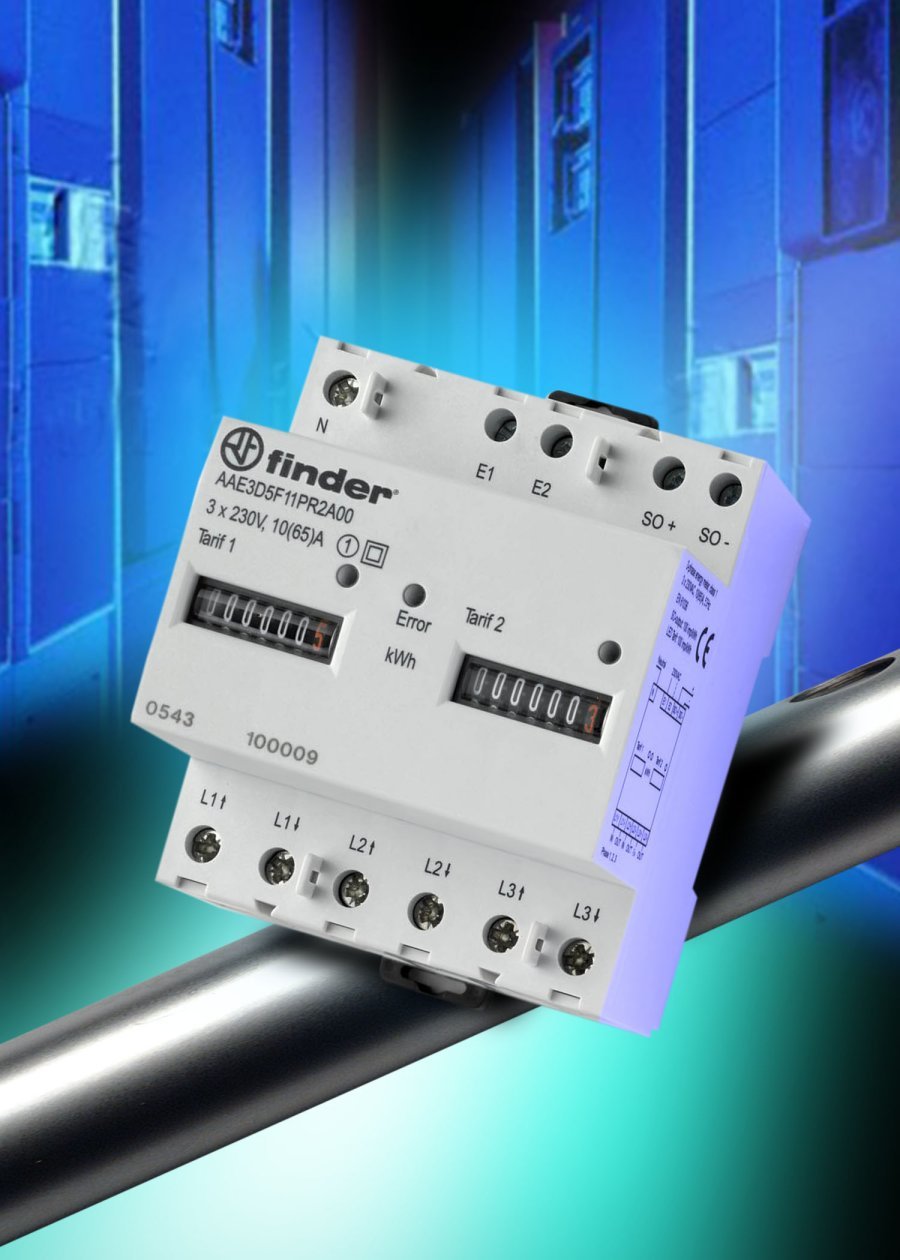 The meters are particularly applicable where there is a statutory need for compliance with the EU Measuring Instrument Directive (MID) 2004/22/EG which comes into force in October 2006. The current pressure to reduce energy consumption is also driving the need for accurate monitoring and measurement in specific areas.
The 7E.36 Series meters provide a compact, accurate and easily-installed solution to metering three-phase energy consumption, and are ideally suited for use by manufacturers and installers of machinery and equipment, control systems manufacturers, contractors, site service engineers and designers of building management systems (BMS). Typical areas of use include industrial and commercial installations, test cells, machines, control cabinets and switchboards.
Type 7E.36.8.400.0000 is a single-tariff 3-phase meter, and Type 7E.36.8.400.0002 is a dual-tariff version for use with standard and economy tariff supplies. Both meters are specified for a maximum current rating of 65A, and are housed in a compact 70mm wide enclosure that can be surface mounted or fitted to a 35mm DIN rail, allowing them to be installed in confined spaces or mounted on standard sub distribution boards.
The meters feature 4mm high, 7-digit display(s) including a red decimal digit, to provide an easy-to-read display with a maximum totalising count of 999,999.9kWh. A high resolution pulsed open-collector output to DIN 43864 provides a link to BMS or other types of remote monitoring system. A variable rate pulsed red LED indicator offers a rapid visual indication when abnormal operation is occurring, for example due to phase loss or inversion. Terminal covers are also available to enable a tamper-proof seal to be fitted.
The 7E.36 Series is compliant with EN 62053-21 and prEN 50470 as well as with the EU MID 2004/22/EG, and is certified by PTB (Physikalisch-Technischen Bundesanstalt). Accuracy is specified to Class B and protection to Class II.
Enquiry Form: http://www.epreston.co.uk/enquiries.php
Home Page: http://www.epreston.co.uk/epblog/