The 4C Series is a new series of single-pole and two-pole relay interface modules from Finder that incorporate Finder's flagship 46 Series miniature industrial relays, and are available in either screw terminal or screwless socket types. The modules provide an ideal interface between programmable logic controllers (PLC) or other electronic controllers and external actuators or switching devices, where outputs are required to switch higher than normal external loads such as large contactors, solenoids, small motors or heating elements.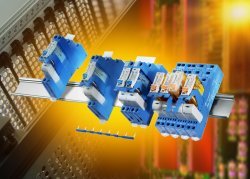 The 4C.01 and 4C.02 are respectively a single-pole 16A and a two-pole 8A relay interface module, both with screw terminal connections, while the 4C.51 is a screwless single-pole model rated as 10A and the 4C.52 is an 8A two-pole screwless version. All four models are available with either AC or DC coils, and can be mounted on a 35mm DIN rail (EN 50022). They feature instant ejection of the relay from the socket by means of a plastic retaining clip, and include as standard both a supply status indication and coil suppression module.
An 8-way jumper link is available as an optional extra for use with the 4C.01 and 4C.02 modules, and reduces the time taken to wire common connections.
The 4C.01 and 4C.02 screw-type terminal modules both measure 82.9mm long x 64.6mm high x 15.8 mm wide, while the screwless 4C.51 and 4C.52 versions both measure 95.6mm long x 61.7 mm high x 15.8 mm wide. The cadmium-free relay contacts are fabricated from silver nickel (AgNi) material.
Enquiry Form: http://www.epreston.co.uk/enquiries.php
Home Page: http://www.epreston.co.uk/epblog/