"Matching 3-position switch version available for 2-speed fans, wipers, etc."

E-T-A Circuit Breakers has introduced a new combined switch and circuit breaker for push-fit mounting in switch panels. Its attractive, contoured, 'soft' feel rocker actuator with dual illumination and choice of both colour and 'marine' legends make it a first-line choice for builders of power-boats and yachts. A 3-position switch version of matching design enables all combinations of switching and circuit protection to be provided in one stylish control panel grouping.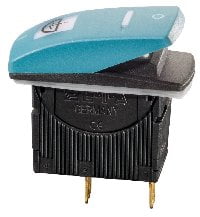 The new E-T-A 3131 combined switch and thermal overcurrent circuit breaker provides snap-in, panel-mounted, single pole protection against both limited short circuits and low level, but potentially very harmful, overload currents. The integral overload protection negates the need for fuse holders or additional circuit breakers, thus offering great advantages for boat users and simplifying the wiring circuits. Models are offered in current ratings from 0.1A to 20A at up to 50V DC/240V AC for single pole applications. The complementary E-T-A 3131 three-position switch with matching actuator design offers the additional switching required for units such as 2-speed fans and wipers.
The ergonomically styled rocker actuator on both versions of the E-T-A 3131 is soft to the touch and offers two illumination options with a number of different permutations possible.   Splash water protection is assured even in the toughest nautical conditions with its IP66 rating. The 3131 CBE is one of the smallest and lightest products of this type on the market, making it ideal for the protection of circuits and equipment including vital navigation and communication equipment.
Enquiry Form: http://www.epreston.co.uk/enquiries.php
Home Page: http://www.epreston.co.uk/epblog/