Schurter's stylish metal line switches are now available with blue illumination. The new colour option joins the existing yellow, red, green and bi-colour red/green options in point or ring illuminated versions.
The luminous switches are designed for use in applications where lighting conditions are low and indication is necessary to identify the switch actuation area. Customisation can be achieved to meet customers individual needs, including special finishes and legends. Pictures and/or text can be applied to stainless steel types. The hard-wearing laser-etched letters and symbols are resistant to abrasion and fading for a lifetime that exceeds that of the switch.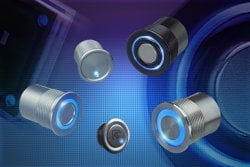 The Schurter Metal Line comprises a wide range of vandal-resistant metal switches, engineered in Germany for a high quality finish.  Metal Line products are available with Piezo electronics for long-life, protection against outdoor elements, high impact resistance and virtually indestructible wear.  Also available are switches with electro-mechanical actuators for applications requiring travel with the switching action. Mounting dimensions range from 16 to 30 mm with IK ratings from 02 to 07 for high impact resistance. IP ratings range from 40 to 67 for degree of sealing protection.
The blue illuminated metal line switches are at home in many applications including ticket terminals, parking garages, petrol stations, roadside call boxes, lifts, door controls, cashpoints, internet terminals, and information booths.
Enquiry Form: http://www.epreston.co.uk/enquiries.php
Home Page: http://www.epreston.co.uk/epblog/