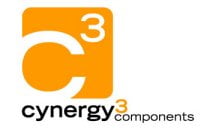 Cynergy3 Components brand has emerged following the sale of Crydom-branded solid state relay product line to Schneider Electric. The original founders along with a select group of managers from Crydom Corp announced today the formation of Cynergy3 Components, a new brand that represents the semiconductor products, silicon power modules, highvoltage reed relays and magnetic product lines from Crydom Corp and Crydom Magnetics, Ltd.
"Our new branding effort is the first step in the strategic development of our company and product lines," said John Royan, chairman, Cynergy3 Components. "Cynergy3 Components will build on our reputation for uncompromising quality, performance and reliability, with engineering expertise to create the next generation of semiconductor advancements."
"Numerous foreign markets, particularly in Asia, are rapidly expanding and experiencing high demand for semiconductor products," Royan stated. "Our goal is to not only meet the demand but to exceed manufacturer expectations with our superior line of products."
About Cynergy3 Components
Cynergy3 Components includes power semiconductors, power modules, high-voltage reed relays and liquid level/flow switches. All products are available through the Cynergy3 authorized distributor network in the U.S., Europe and Asia. It offers hundreds of catalog off-the-shelf items, as well as custom-designed products, SCR, Triac and Rectifier die. Because of its dedication to quality, Cynergy3 has full certification to ISO 9001. In addition, most Cynergy3 products are approved by UL, CSA, VDE and carry the CE Mark and are RoHS compliant, signifying conformance with the latest European directives–further proof of exceptional levels of performance. Cynergy3 Components is based in San Diego, Calif. For more information visit http://www.cynergy3.com/.
Enquiry Form: http://www.epreston.co.uk/enquiries.php
Home Page: http://www.epreston.co.uk/epblog/