The 2006 Finder Product Profile is a 24-page colour brochure that provides outline information on the company's comprehensive range of relays, monitoring relays, timers and movement detectors.
The range includes miniature and low-profile PCB relays, industrial relays, general purpose relays, power relays, relay interface modules and sockets. Also featured in the brochure is a range of monitoring relays and timer modules. A series of products designed for intelligent lighting applications comprises light-dependent and step relays, dimmers and time switches rated at up to 16A, as well as PIR movement detectors, all of which are suitable for use with either incandescent or fluorescent lighting installations.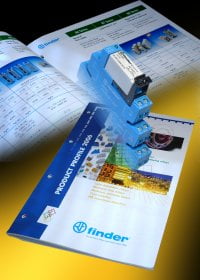 The Product Profile provides all the primary electrical, environmental and mechanical specification parameters for each family of products, along with a colour photograph and a list of the relevant standards and approvals for each product Series.
Products that are new to the 2006 edition of the Product Profile include the 46 Series industry-standard miniature industrial relays, the 66 Series 30A power relays and the 38 Series two-pole relay interface modules.
Finder's products are all manufactured in Europe, to the highest standards of quality and reliability, at the company's state-of-the-art production facility near Turin, Italy.
Enquiry Form: http://www.epreston.co.uk/enquiries.php
Home Page: http://www.epreston.co.uk/epblog/