New from Arcolectric is a range of smart indicators – intelligent devices that operate like standard neon indicators, but with added functionality. The intelligent embedded microcontroller can be programmed for multiple applications, and the first three offerings from this family are a Single phase supply checker, a Maintenance indicator and a Temperature monitor.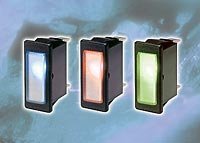 The indicators have the familiar and convenient snap-in profile and feature fast-on terminals, so are drop-in replacements for Neon lamps, making it simple and fast to upgrade an existing product design with new functionality. The smart indicators feature dual LED illumination, so there is a wide choice of illumination colours and colour combinations.
Single phase supply checker (C1431AL)
The supply checker can be fitted as a direct replacement for a Neon indicator, giving clear visual equipment safety indication. The device connects to Live, Neutral and Earth terminals, and monitors the appliance and incoming mains supply for swapped or missing electrical connections. Blue LED illumination indicates correct connections, while Red LED illumination indicates a swapped connection fault. A flashing Red LED indicates a missing connection, such as detached neutral or earth.
Intended for use on appliances or equipment where cable damage is a possibility, such as: portable appliances, site equipment, power tools, garden equipment, extension cable reels, audio equipment, commercial kitchens and stainless steel appliances.
Maintenance indicator (C1432AL)
The indicator monitors appliance usage, and operates as a preventative maintenance or regular inspection reminder for the equipment user. A direct replacement for a neon indicator, the unit counts time that mains power is applied, and remembers the accumulated time even if power is switched off. Blue LED illumination indicates normal operation, but when the factory set operating time is exceeded the illumination changes to flashing Red, indicating that service or maintenance action is required. Connecting the 'reset' terminal to neutral resets the timer to zero, and timing starts again.
Typical domestic applications are reminding coffee machine users to decalcify their machines, change deep fat fryer oil, and change or clean cooker hood filters. For service interval indication, the unit could be fitted into gas appliances to indicate when servicing or inspection is overdue. Additionally, users could be given an indication when their appliance warranty period is about to expire.
Temperature monitor (C1433AL)
The temperature monitor is a snap-in device to clearly indicate that refrigeration temperatures are within safe limits. Upper and lower temperature limits can be factory programmed to suit the application. The monitor operates like a standard neon indicator, giving visible on/off status indication for the appliance. Normal operation shows continuous blue LED illumination while the monitored temperature is within the 'safe' range between lower and upper limits. Should the measured temperature fall outside of the 'safe' range, the LED illumination changes colour to Red. The unit has a pre-connected temperature sensor on a flying lead, ready for quick installation.
Intended for convenient monitoring of deep freeze, refrigeration, cold storage, chiller or air conditioning operation, giving a visual check of the correct temperature without having to know the exact temperature or the limits.
Enquiry Form: http://www.epreston.co.uk/enquiries.php
Home Page: http://www.epreston.co.uk/epblog/