Ideal unit for E-T-A 8345 hot-swappable CBEs in telecomms and other industrial applications
E-T-A Circuit Breakers has introduced a new, compact, modular power distribution system suitable for rack mounting to handle currents up to 125A per channel. When populated with E-T-A circuit breakers, it facilitates rapid start-up and re-configuration of complex systems without downtime.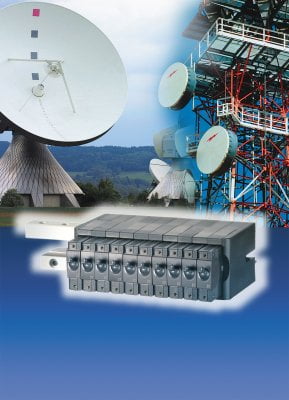 The E-T-A X8345-D01 Power Distribution System is a 2U-height rail system designed for fitting into 19″/23″ or ETSI racks. Its modular design allows customer-specific and economic configurations in telecommunications and transport industries, for power supplies, switchgear, instrumentation and process control applications. It accepts the plug-in E-T-A type 8345 circuit breakers which can be specified to handle from 0.05A up to 125A each and which offer group signalisation. A complete X8345-D01 module will handle 600A in total. Systems can be extended or re-configured without powering down as X8345 circuit breakers are hot-swappable. Live parts in the plug-in area of the load terminals are protected against brush contact to IP20. 
In combination with the toggle switch, hydraulic-magnetic type X8345 circuit breakers, the X8345-D01 rack is ideal for telecommunications control cabinets. They provide a comprehensive power distribution system to protect wireless or wireline equipment, whether for switching technology, transfer mode systems, network access technology or mobile radio systems.
The E-T-A 8345 magnetic circuit breaker for equipment (CBE) is a fully approved circuit breaker for telecommunications equipment, plant control systems, the rail industry and other applications where reliable protection in a compact package is essential. The 125A maximum rating is 25A higher than the industry norm, allowing designers to increase power output without consuming valuable rack space. The product is fully approved to UL489, UL1077 and EN 60934, requiring the circuit breaker to be fit for purpose after interrupting a short circuit at its maximum specified fault rating. Thus, an extra measure of protection for expensive electrical equipment is assured, reducing costly downtime caused by power interruption.
E-T-A offers a wide range of power distribution systems, racks and circuit protection solutions for the telecommunications industry, as well as offering racks or sub-assemblies, wired and pre-fitted with circuit breakers, electronic power controllers and other components customised to meet specific requirements.
These products are highlighted in a new 20-page brochure 'E-T-A Communication', available free from E-T-A at http://www.e-t-a.com/uk_literature1.html.  This covers products used in exchange and transmission technology as well as mobile telephone base stations. It emphasises the complete system solutions and explains the advantages of E-T-A circuit breakers, including their space saving, the ability to 'hot swap', and the local/remote re-set capability. Along with descriptions of 20 products it also lists their typical applications.
Enquiry Form: http://www.epreston.co.uk/enquiries.php
Home Page: http://www.epreston.co.uk/epblog/