Class A/B 3-phase+neutral sum, 4-wire filtering
"Safe Touch" Terminal Blocks
Compact Design
Schaffner Ltd, the market leader in EMC components and test systems, announces the introduction of a new filter to its very successful compact industrial FN3280H EMC filter range. Rated at 200A @ 50°C the new model and has been introduced to meet demands for higher power from machinery and power cabinet manufacturers.
The FN3280H filter range now has 9 models rated from 8 to 200A and all offer 3-ph+N sum filtering for potentially noisy machines connected to low-voltage electricity networks, which may also supply domestic or commercial users. In these environments Class A and occasionally even Class B EMC filtering is required. To simplify system design the filter currents of all models have been aligned to commonly available fuse protection values and outstanding low leakage currents of <1mA are attainable in 4-wire connection mode.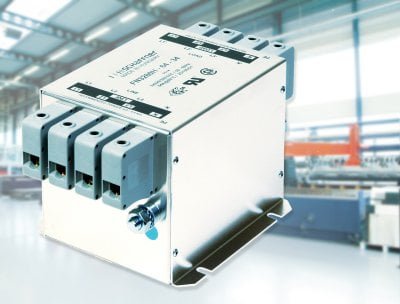 The new FN3280H-200-40 offers outstanding filter performance in a very compact package and does not de-rate under full-load operating conditions. Connection is made via Schaffner's proprietary "touch safe" terminal blocks that meet EN60204-1 to provide maximum safety for installers, inspectors and operators. 3-phase/4-wire filters are now a standard product and available off the shelf.
The FN3280H range of filters is ideal for machine tools with up to 12 driving axes with 10 to 10m of motor cable each likely to be operated in mixed domestic environments and will allow manufacturers to comply with Class A or even Class B filtering. FN3280H filters also improve the immunity and reliability of the entire system by also protecting the machine against incoming conducted interference from the operating environment. This additional protection ensures maximum productive up-time and lowers maintenance costs.
"We have introduced this new 200 amp filter in direct response to our customers' needs." comments Andy Kotas, Marketing Manager of Schaffner Ltd. "Machine tool and power cabinet manufacturers are always under pressure to provide more power, frequently in restricted spaces. Our very compact, safe, easy to use, high performance filters are an ideal solution"
Typical applications include, manufacturers of machinery, machine tools, and process automation equipment, energy conservation devices and regenerative motor drives, power cabinets, premium 3-phase + neutral power supplies and UPS and solar power technologies.
Enquiry Form: http://www.epreston.co.uk/enquiries.php
Home Page: http://www.epreston.co.uk/epblog/