New from Finder is a range of 35mm rail mounting sockets featuring screwless terminations. Designed for use with Finder's 34, 40, 41, 44 and 55 series plug-in relays and 85 series timers, the sockets can be used in any application where power and control wiring is terminated. The sockets will allow panel builders, machine builders, system integrators, OEMs and installers to make a reliable and vibration-resistant connection to the relay or timer in the shortest possible time.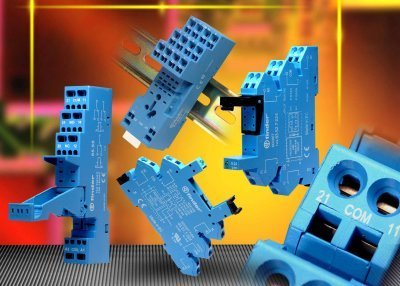 Conventional screw terminals must be tightened to a specified torque during assembly: this process is time-consuming, and it is difficult to ensure that it has been performed correctly. As a consequence, screw connections can work loose under high levels of vibration, either in operation or when being transported. Screwless connections are achieved by means of two metallic blades that are both under tension, which will always force a strong closing action on the wire.
The sockets are all suitable for 35mm rail (EN 50022) mounting and, depending upon type, may also be suitable for panel mounting. The sockets offer the same features and performance as their screw terminal equivalents, allowing the designer the choice of a screwless termination without compromising on other parameters.   Many of the sockets accept Finder's range of coil indication, EMC suppression and timer modules, and all feature plastic retaining and release clips .
The wide range of relay socket styles that are now available in the screwless format means that the benefits of reduced wiring time and termination reliability can be offered across a large selection of Finder's relay types and ratings.
These sockets are the result of Finder's total in-house capability for product design and expertise in advanced manufacturing technology; encompassing the design and manufacture of all precision mould and press tools, automated assembly machinery and test equipment.
Enquiry Form: http://www.epreston.co.uk/enquiries.php
Home Page: http://www.epreston.co.uk/epblog/