Arcolectric has recently expanded their portfolio of mains rated switches to include an extensive range of toggle switches.
The 3900 Series of toggle switches offer a wide variety of switching options in single and double pole versions with SPST, SPDT, DPST & DPDT switching and momentary and three position actions.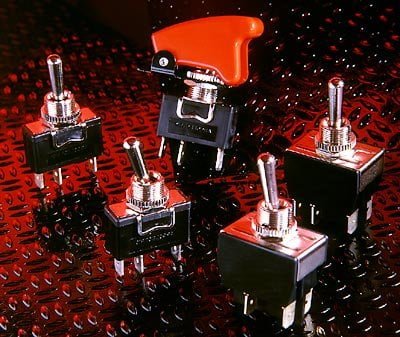 With mechanical life of 50,000 operations and full international approvals up to 16(4)A @ 250Vac, T85 (ENEC) and 20A @ 125/277Vdc (UL & CSA) the 3900 Series offer value for money with specification to match. The terminal options, 6.3mm tags or solder tags, make the switches suitable for both high and low volume manufacturing techniques.
Nickel plated brass levers, with nickel plated nut and bush, fit industry standard 12.7mm diameter mounting holes and provide secure, durable operation.
The range is complimented by a full range of accessories including; toggle seals, ON/OFF status plate and a special guard that prevents accidental operation of the switch.
These switches find many applications where conventional lever operation is needed including; control panels, automation systems, test equipment, industrial equipment and even agricultural, marine and motoring accessories.
Features include:
• Mains power rated
• Ratings up to 20A, 277Vac
• Nickel plated, solid brass levers
• Wide range of switching circuits
• Push-on (6.3mm) or solder terminals
• Security guard prevents accidental operation
• Seal to panel accessories
• International approvals
• Competitive pricing
Enquiry Form: http://www.epreston.co.uk/enquiries.php
Home Page: http://www.epreston.co.uk/epblog/