Single-Phase High Performance EMC Filters
Simplifies Panel Building and Industrial Control Systems
Schaffner Ltd the market leader in EMC components and systems announce the introduction of the FN 2412 series of DIN Rail mounting EMC Filters. This new family of high performance single-phase filters are will fit industry standard TS 35 DIN rails and offer a simple to use, time saving, cost effective solution to conducted EMC suppression for panel builders and control cabinet manufacturers. The extensive range of current and voltage ranges available mean that even special applications can now be protected with an off the shelf solution.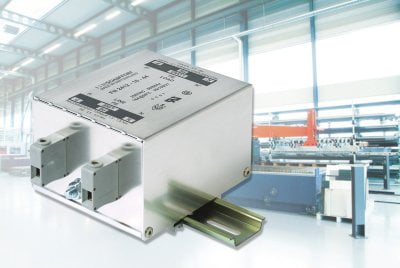 A sophisticated mounting system provides a simple and time saving snap-in mounting of the filters onto TS 35 DIN rails. The innovative shaping of the DIN-rail mounting bracket as well as its material guarantee low-impedance connection to the HF ground ensuring an optimal (asymmetric) filter effect, which has previously only been available by using traditional bolt-down chassis mounting methods. The FN 2412 filters have been designed, electrically and mechanically, to meet the requirements of industrial equipment and control cabinets.
With models available off the shelf for rated currents from 8 to 45 A the correct FN 2412 EMC filter will typically ensure system conformity to Class A limits for Industrial and Residential environments. Owing to the high saturation resistance, this high attenuation performance is available even with very aggressive noise sources and under full load. Schaffner's specially designed "Touch-Safe" connection terminals make accidental touching of live conductors impossible ensuring maximum safety when in use.
 
These new filters are designed for a maximum continuous operating voltage of 250 VAC and there is also a standard version FN 2412H available for higher operating voltages up to 520 VAC. All models are safety agency approved to UL, CSA and ENEC and are RoHS compliant.
Andrew Kotas, Marketing Manager of Schaffner Ltd. comments "these are our first Din Rail mounted EMC filters which we hope will provide our customers with even more convenience and flexibility when having to provide EMC suppression on their systems. While effective EMC protection is required to meet international noise emission standards it can also improve system reliability and reduce expensive downtime caused by external conducted interference damaging internal components"
The FN 2412 range of EMC filters are also available in chassis mounting form for applications where Din Rail mounting is not possible. Designated FN 2410 these noise suppression components are available for the same voltage ranges (250 VAC and 520 VAC) and for an extended current range up to 100 A.
Enquiry Form: http://www.epreston.co.uk/enquiries.php
Home Page: http://www.epreston.co.uk/epblog/