The Honeywell Limitless™ product line extends to include wireless operator interface. With both momentary and maintained contacts, the wireless operator interface (WOI) can be used by an operator to provide indication via a pushbutton or another user-chosen operator type (i.e. 22 mm rotary switch, 22 mm key switch, etc.). The WOI Series adds a human interface device to the productdriven interfaces of Limitless™ switches and receivers – wireless control from both person and position.
The WOI Series is especially beneficial for remote monitoring applications where wiring or wire maintenance is not physically possible or economically feasible. Combining this greater flexibility with proven harsh-duty packaging can result in increased efficiencies and ease in establishing a remote operator for use in a variety of applications, including turning equipment or devices on or off, opening and closing doors/gates, stopping a production conveyor, indicating the need for service, and much more.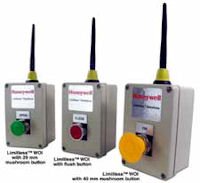 FEATURES
Wireless Design
• Radio (license-free and global): WPAN 802.15.4, 2.4 GHz, point-to-point
• FCC 15, IC, ACMA & ETSI
• RoHS compliant
• EMI immunity
• Up to 305 m [1000 ft] communication range when used with a Limitless™ wireless monitor or receiver module (sold separately)
• Reliable, flexible, and secure wireless transmission
• Standard replaceable battery with ultra-low power consumption
• Direct or remote mount antenna options
Mechanical Design
• Aluminum enclosure
• IP65 sealing
• 22 mm flush, 29 mm mushroom, & 40 mm mushroom (pushpull) round pushbutton operators available
• User chosen/installed operator type is allowable
• Momentary and maintained contact options
• Design for ease of installation
BENEFITS
• Enables operator indication (i.e. push button) from remote locations where wiring is too costly or not possible
• Flexibility for users to choose and install their desired operator type; i.e. 22 mm rotary switch, 22 mm key switch, etc.
• Able to reconfigure multiple WOI inputs which easily allows for adding, subtracting or relocating of Limitless™ WOI switches
• Offers the ability to be used in conjunction with Limitless™ switches configured on a single Limitless™ receiver
• Reduced installation/maintenance costs with no wires, conduit, strain relief, clips, connectors, connection boxes, etc.
• Eliminates issues with wire connection integrity on moving equipment
• Consumes ultra-low power to prolong battery life
POTENTIAL APPLICATIONS
Industrial
• CNC action
• Conveyors
• Door/Gate action
• Lifts
• Material handling
• Motor drives
• Presses
• Pumps
• Quality control buttons
• Specialty machines
• Stop/Start machinery
• Stop/Start production
• Valve action
Transportation
• Agricultural equipment
• Movable machinery
.
Enquiry Form: http://www.epreston.co.uk/enquiries.php
Home Page: http://www.epreston.co.uk/epblog/