The 18 Series of PIR movement detectors from Finder has been extended to include a new model that operates outdoors in addition to the existing indoor model. The units detect body heat to control lighting in a range of applications, including energy saving and security.
The detectors can reduce energy consumption by automatically switching off lighting when it is not required. This addresses the increasing pressure on companies from both governments and environmental groups to reduce energy consumption, which means that areas of unnecessary lighting have come under scrutiny.  In parallel to this, there is a need for improved lighting particularly in exterior areas to deter potential intruders.
Finder's PIR detectors are targeted at designers, engineers, contractors and installers of lighting control systems in commercial, industrial and domestic premises.  They will be of particular use in areas inside and outside buildings that are not permanently occupied, such as offices, washrooms, corridors, stairwells and stores as well as outside loading bays, access ramps, etc. where constant lighting is not required.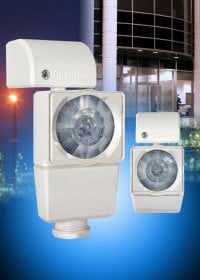 The output contact for both the 18.01 interior model and the 18.11 exterior model is rated at 10A, with a 20A peak current capability, suitable for switching a 230V incandescent or halogen lighting load of up to 1kW or a compensated fluorescent lighting load rated at up to 350W.
The coverage area spans 110° in both the vertical and the horizontal plane, and the sensing range is specified up to 8m. An integral adjustable threshold light sensor ensures that energy is not wasted by preventing the lights from being switched on in conditions of high ambient light.
To avoid accidentally switching off lights when personnel are still in the lighting zone, the Series 18 PIR units feature an extended 'on time'. This enables the length of time the lights remain on after movement detection ceases to be extended by a preset delay time, which can be adjusted to between 10 and 180 seconds.
The versatile design of both Series 18 PIR models features a ball joint construction that enables simple, trouble free mounting on a flat vertical or horizontal surface, with the ability to angle the detection head to adjust the required detection area by up to 180° in the horizontal plane, and 27° in the vertical plane.
The 18.01 model allows concealed cable entry via the mounting bracket, while the IP54 protected 18.11 exterior model features a PG9 cable gland entry in the base. The electrical contacts are lead-free AgSnO2.
The Series 18 PIR range is entirely designed and manufactured in-house at Finder's European facility near Turin in Italy. The design includes custom embedded system programming, CAD evolved optics, custom designed electronics, tooling and test equipment.  The units are competitively priced and offer specifiers and end users a European designed and built PIR with unparalleled flexibility, in a neat and compact housing.
Enquiry Form: http://www.epreston.co.uk/enquiries.php
Home Page: http://www.epreston.co.uk/epblog/