Finder has announced the new 10 Series light dependent relays, which have the ability to control lighting according to ambient light levels. These relays will be of particular interest to designers, specifiers and installers both of lighting and of lighting control systems, and will find applications in the automatic control of exterior lighting around factories, loading bays, schools, offices and similar areas where lighting is required for security or safety reasons during the hours of darkness.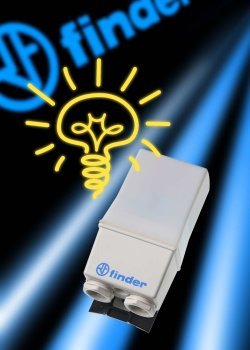 There is a growing need to reduce energy consumption, maintenance and replacement costs by ensuring that essential exterior lighting is lit only during times when the ambient natural light falls below an acceptable level, and it is this requirement that the 10 Series has been developed to address.
The 10 Series relays feature an integral photoelectric sensor combined with innovative light feedback compensation circuitry designed by Finder, which prevents the controlled lighting from 'hunting' on and off due to the perceived increase in ambient light when lights are automatically turned on. This feedback capability is achieved by monitoring the effect of the controlled lighting over a ten-minute period, which ensures compatibility with slow starting gas discharge lamps. ON and OFF delay times are reduced to zero for the first three cycles, which aids set up and commissioning and reduces installation time.
The new family of relays includes both single-pole and two-pole output types rated at 16A, and also a miniature type, 10.51, with a single 12A output. The double output 16A 10.32 allows Live and Neutral switching, while model 10.41 has a single 16A NO output for Live switching.  All the relays in the series operate from either a 120V or 230V AC supply.
The ambient light switching level is adjustable in the range 1 – 80 lux, and the relays are capable of switching up to 2.3kW of incandescent or halogen lighting, allowing the switching behaviour to be optimised according to both the needs of the individual application and the physical location of the unit.
Enquiry Form: http://www.epreston.co.uk/enquiries.php
Home Page: http://www.epreston.co.uk/epblog/