Sensasta (Cynergy3) are pleased to announce the launch of the FLPV Series of Float Switches from our Level and Flow product line to our Global Distribution Network.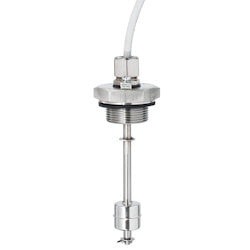 The FLPV is a flameproof vertical float switch range, with single or dual float, designed to give the user a long reach with a number of switching options, catering to a wide variety of system requirements. Manufactured in stainless steel 316L material, these ATEX and PED certified switches are suitable use in many aggressive liquids or hygienic applications.
Their industry standard process connection sizes give a quick and reliable method of installation:
• Dual switch point for high/low indication
• Stainless Steel 316L material
• Fast switching, allowing precise control
• High life expectancy
Wherever there is a need to detect the level of fluid there may be a requirement for a level switch. To list all areas where this is applicable to the FLPV is prohibitive. However, the FLPV will be used as either
a process control device or system protection device. The FLPV is a reliable and robust switch due to its design and more cost effective compared to its competitors.
Typical examples of usage include storage overfill protection, pump run dry protection, and max-min level control. The FLPV Series is a great solution to address these requirements:
• Power ratings 10 VA
• Fast switching, allowing precise control
• Switching Voltage 200VAC / 120VDC
• High life expectancy
• 10 Bar Pressure rating
Enquiry Form: http://www.epreston.co.uk/contact/
Home Page: http://www.epreston.co.uk/epblog/