NEW ELECTROMECHANICAL SAFETY SWITCHES AVAILABLE
Honeywell is committed to manufacturing safety solutions and we've doubled our product line to prove it. Honeywell offers a broad line of safety switches from miniature to heavy-duty switches. Honeywell's newest additions are a result of continuous development and brand commitment.
In addition to Honeywell's current safety switch offering, we are proud to introduce several new product series.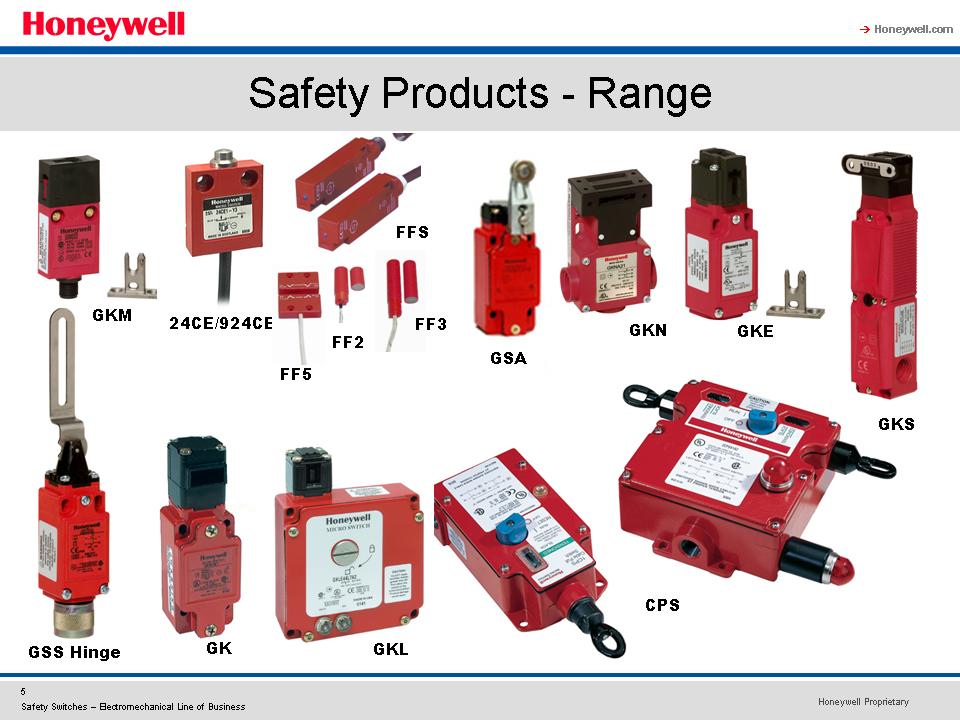 HONEYWELL SAFETY SWITCH RANGE.pdf
KEY-OPERATED SAFETY SWITCHES
• GKE – IEC 20 mm mounting and IEC pricing are strong selling points of Honeywell's GKE product line. Available with 20mm or 1/2 inch NPT conduit, the GKE has two key openings and either 1NC/1NO or 2NC switching capability.
• GKN – Honeywell's GKN switch has a common footprint and three contacts for safety monitoring, along with a flexible key. There are two switch stocking units (SKUs) for many applications. With four key openings, the GKN has up to three normally closed safety contacts and drop-in capability.
• GKS (available December, 2006) – Designed to trap-and-hold the key until the hazard has been removed, the GKS uses a solenoid for either Power-to-lock or Power-to-unlock Situations. This configurable basic allows combinations of four contacts and complies with North American, European, and Chinese standards. Potential applications include an access panel for a press, robotic machinery, and automated assembly areas.
NON-CONTACT SAFETY SWITCHES
• FF and FFS – These non-contact safety switches are a strategic fit into the Honeywell safety switch line as they complement the electromechanical offering. These non-contacting, hard-guarding solutions cope with Slop In the application or a large actuation window to reduce alignment issues between the switch and magnet actuator. Priced competitively, these switches have several potential applications, including pick-and-place packaging/assembly equipment, semi-con equipment, and printing machinery. Product series include: FF2, FF3, FF5, FF6, and FFS.
POTENTIAL APPLICATIONS, APPROAVALS, and HOUSINGS
These safety switches may be appropriate for the following applications:
• Packaging equipment
• Pick-and-place assembly equipment
• Semicon equipment
• Plastic molding equipment
• Woodworking machinery
• Textile machinery
• Printing machinery
PRODUCT SHEETS and INSTALLATION INSTRUCTIONS
To view the broad line of Honeywell safety switches, please click on the link below
http://content.honeywell.com/sensing/prodinfo/safetyswitches/
Enquiry Form: http://www.epreston.co.uk/enquiries.php
Home Page: http://www.epreston.co.uk/epblog/