Arcolectric's latest addition to its extensive range of Indicators are the new slim profile LED Holders.
With significantly smaller mounting hole sizes compared to the standard range of LED holders, these holders push fit to panel allowing quick and easy assembly.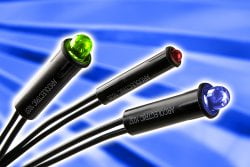 The 1035 holders are suitable for use with T1 type LED's (4.5mm) and the 1036 and 1037 for T1 3/4 type LED's (6 and 6.35mm versions). Maximum panel thickness is 1.6mm.
The LED holders are available with bare LED leads or with wire termination, and can be supplied pre wired for 2, 6, 12, 24 or 28V dc and 125 or 250V ac. The LEDs are available in red, green, blue or yellow as standard, however dual colour options are available upon request. They can also be supplied without LEDs fitted.
This range of LED holders are ideal for use where panel size is at a premium or where a large quantity of LED's are required to be densely mounted together.
Enquiry Form: http://www.epreston.co.uk/enquiries.php
Home Page: http://www.epreston.co.uk/epblog/