For the first time Schurter's entire range of EMC solutions is available in a single reference; the new EMC short-form catalogue. Buyers can now easily select from possibly the most comprehensive EMC component range available from one manufacturer, encompassing Schurter's IEC connector 'power entry modules', block filters, chokes, pulse transformers and power stage driver modules.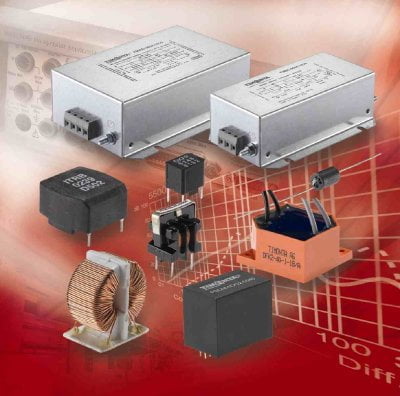 The simple selector chart structure of the EMC short-form catalogue allows for comparison of the components attributes and specifications. Additional information on all of the Schurter range is available on http://www.schurter.com/, which, in keeping with Schurter's open information policy contains approvals, lead-free roadmaps, CAD models, drawings, distributors links, and stock-checks, to ensure designing in Schurter is designing in simplicity.
The Power entry modules section of the catalogue contains interconnected multi-functional IEC connector components with fuse holders, voltage selectors and line filters. A separate section presents line filters for 1 and 3-phase systems, and is supported by extensive general information about line filter design and selection.
Linear, magnetically compensated, saturating and ground-wire chokes find their use in power electronics (frequency converters, stepper motor drives, ups-systems, power supplies etc.). They are within the range of 0.4 up to 50A and have an inductance range of 0.1 up to 60mH.
The pulse transformers section has been specially developed for the control of semiconductor devices in power electronics. Application possibilities include triggering Thyristors, Triacs, power transistors and IGBTs. The Power Stage Driver Module has been developed for driving power IGBT or MOSFET transistors in a safe, reliable and easy way.
Enquiry Form: http://www.epreston.co.uk/enquiries.php
Home Page: http://www.epreston.co.uk/epblog/