The Most Powerful High Voltage Relay up to 1000 V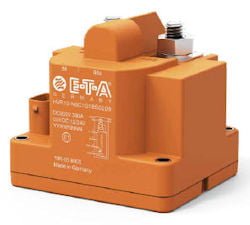 The HVR10 is a hybrid and powerful high voltage relay in a compact design. It combines physical isolation of an electro-mechanical contact with the capabilities of ultramodern semi-conductor technology.
The hybrid, arc-free switching system allows repeated and reliable disconnection, even in the event of an overload, of up to 2 megawatts – 2,000 A/1,000 V. The HVR10 withstands high short circuit currents up to 5,000 A until the fast high voltagefuse trips. The fist-sized unit can switch and permanently carry 300 A up to 100,000 times, arc-free and wear-free. The innovative self-monitoring function immediately signals critical operating conditions to the controlgear.
Benefits:
• Multiple disconnections even in critical conditions up to 2,000 A at 1,000 V.
• Enhanced protection of the on-board electrical system through integral fault detection and indication
• Minimum wear through arc-free switching
Technical Data:
• Voltage ratings 900 V
• Max. voltage 1,000 V DC
• Continuous current 300 A
• Switching capacity Imax off 2,000 A
• Max. holding current 5,000 A for 25 ms
• Degree of protection IP54
• Ambient temperature -40 °C … +85 °C
Standards:
• ISO 16750
• IATF 16949
• ECE R10
• ASIL upon request
Typical Applications
• Buses, trucks, construction machinery and special vehicles with electrical drivetrain
• Charging stations, power storage and main relays in the vehicle
Enquiry Form: http://www.epreston.co.uk/contact/
Home Page: http://www.epreston.co.uk/epblog/