CFO Fuse Clip Series:  As THT Version or with M3 Bore for Screw and Rivet Mounting
• Designed for high rated voltages
• Excellent price-performance ratio
• Low mounting height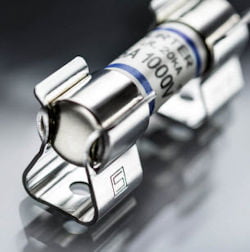 The CFO fuse clip series is designed for fuses with 10.3 mm diameter and is available as M3 version for screw and rivet mounting or alternatively for THT.
High performance
The new CFO fuse clip series is suitable for applications with voltages up to 1000 VDC / 600 VAC and currents up to 16 A (UL). The operating range extends from -40 ºC to 125 ºC.
Economical
All variants of the CFO fuse clip series offer an excellent price-performance ratio. The clips are made of brass and are available with nickel or tin plating.
Flexible
Suitable for (almost) every application: Whether a classic THT or screw/rivet mounting is required, with the CFO series you will find your matching fuse clip. Also, thanks to their low mounting height, they can
be installed anywhere.
Applications
Due to its high voltage rating, the CFO fuse clips are suitable for a particularly wide range of applications: These include for example photovoltaic and DC high voltage applications in general. Furthermore, the CFO series is of course also suitable for classical industrial and consumer electronics, battery chargers and power distribution applications.
Enquiry Form: http://www.epreston.co.uk/contact/
Home Page: http://www.epreston.co.uk/epblog/