FMAB NEO
• optional overvoltage protection
• very compact design
• attractive price/performance ratio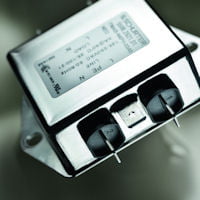 Schurter expands the successful range of chassis mounted filters for single-phase systems FMAB NEO with optionally available overvoltage protection (varistors). This is increasingly in demand, especially in regions with many thunderstorms. The single-stage filter series has a compact design with high performance at the same time.
Overvoltage pulses (e. g. lightning) often have a devastating effect on electronic circuits. This can range from malfunctions to complete destruction. In response to special customer requests, SCHURTER has therefore extended its popular and successful FMAB NEO filter family with varistor variants for surge protection. These variants are available on request. They have ENEC approvals for the entire current range as well as UL/CSA approvals from 1 A to 20 A.
The single-stage filter series has steel housings with a closed bottom. This effectively shields the filter, no matter how it is installed. The series is suitable for applications with high symmetric interferences – such as devices with semiconductors that control large outputs (e.g. professional coffee machines, devices with hot water supply, industrial electronics). The particularly compact filters are also ideally suited for medical and household appliances.
The filter series is available with push-in fittings or threaded bolts. Optionally, there are versions with stranded cable connection. All models have a metal flange for easy screw mounting on the housing.
The series is designed for currents from 1 A to 60 A at 250 VAC in accordance with IEC and UL standards. It has the ENEC and cURus approvals and is suitable for applications in accordance with IEC 60950. Variants with small leakage currents <80 μA (M80) or without leakage current <5 μA (M5) are available for medical devices in accordance with IEC / UL 60601-1.
Enquiry Form: http://www.epreston.co.uk/contact/
Home Page: http://www.epreston.co.uk/epblog/