Schurter is launching its series 6610-5, the logical next step from the successful 6610 series; a new level of functionality is added to the industry's original outlet popularly known for the highest level of efficiency during assembly.
– Integrated light pipes for status indication
– IDC Terminals
– V-Lock cord retention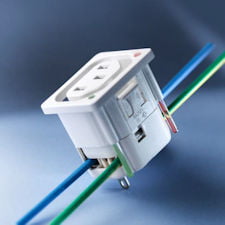 The new 10 A-appliance outlet, series 6610-5, offers integrated guides for light pipes. It features up to two light pipes, intended to channel light from LEDs placed on a printed circuit board to the outlet surface. Technicians are able to clearly see which systems are working properly, or respond to required maintenance adjustments. The controls of the LEDs are freely configurable, wherein each state can be represented clearly and independently. To avoid damage and to make the wiring easier, the light pipes
can be inserted after the installation and need to be ordered separately of the sockets in the PDU.
The use of IDC connectors is particularly efficient. Multiple sockets can be wired quickly in a single step. This highly efficient way of wiring saves considerable time and thus labor costs. The phase contact is available with an optional PCB, quick connect or solder terminal for an independent line supply and status indication. To ensure an even better optical feedback, SCHURTER provides the individual outlets in black, white and grey.
The 6610-5 series is available in two arrangement versions, so called "along" and "cross". Depending on the application and type of PDU, mounting several sockets vertically (cross) or horizontally (along) one behind the other can be achieved. The IDC terminals are then oriented accordingly for insulation displacement of the wires.
The new 6610-5 series offers a pull-out safety feature to prevent against unintentional removal of the power cord. Depending on the arrangement of the outlets in the strip – along or cross – the Schurter V-Lock or cord retention systems with side latches can be used. The snap-in mounting of the 6610-5 is designed for plate thicknesses from 0.8 to 3.0 mm. Additional versions to be launched in the near future will include 16 A appliance outlets.
Technical Data / Approvals
– Ratings IEC/CCC 10 A / 250 VAC; 50 Hz
– Ratings UL/CSA 15 A / 250 VAC; 60 Hz
– Dielectric Strength > 1.5 kVAC between L-N > 3 kVAC between L/N-PE (1 min/50 Hz)
– Allowable Operating Temperature. -25 °C to 70 °C (Pin Temperature)
– IP Protection: from front IP 20 acc. IEC 60529
– Insulation Cover: Suitable for appliances with protection class I acc. IEC 61140
– Terminal: IDC -Terminal
– Panel Thickness: Snap in from 0.8 mm to 3 mm
– Material housing: Thermoplastic, black, white and grey, Frianyl B3 V0
Applications
With its unprecedented functionality and compact design, the new appliance outlet 6610-5 is optimal for intelligent appliances with multiple outlets, such as intelligent PDUs and UPSs used in data centers.
Enquiry Form: http://www.epreston.co.uk/enquiries.php
Home Page: http://www.epreston.co.uk/epblog/