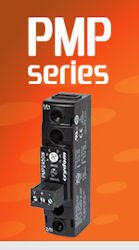 Crydom announces a new addition to the NOVA22 product family, the PMP Series of panel mounted proportional control SSRs.
With ratings of up to 90 Amps @ 40°C these fully configurable relays are perfect for applications that require to control the amount of power delivered to a resistive load in proportion to an analog control input.
PMP Series are fully configurable Panel Mount proportional control relays with micro controller based technology designed to provide control of the power delivered to single-phase loads of up to 90 Amps at 90 to 600 VAC.
PMP Series SSRs vary the output power in proportion to an analog control input, which can be one of 3 signal types: 0-5 VDC, 0-10 VDC or 4-20 mA. The output can be controlled by 2 different methods, selectable on the unit: Phase Angle Control, and Burst Fire Control (with Distributive Zero Cross).
PMP Series proportional controllers are ideal for a wide range of applications that require control of the load power, such as for example lamp dimming and resistive heating control.
Main features of the PMP Series include:
–  Output ratings of 25, 50 and 90 Amps
–  Available in 3 operating voltage ranges: 90-280, 345-530 and 420-660 VAC
–  Selectable Operation Mode: Phase Angle or Burst Fire control
–  Selectable Control Input: 0-5 VDC, 0-10 VDC, 4-20 mA
–  50/60 Hz Adaptive Operational Frequency function
–  4-20 mA input does not require an auxiliary power supply
–  LED multifunction status indicator
–  Contactor configuration with "Elevator" screw terminals
–  Optional overvoltage protection (built-in TVS diode)
Enquiry Form: http://www.epreston.co.uk/enquiries.php
Home Page: http://www.epreston.co.uk/epblog/