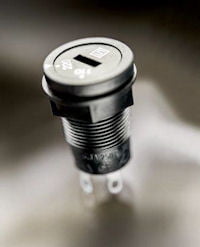 The Schurter voltage selector assortment is newly equipped with the Europe-wide harmonized ENEC approval mark, which is intended to facilitate an open and easier entry to the European
market. Furthermore, the UR and CSA certificates of the types SWA, SWM and SWP have been consolidated to the cURus certificate. These voltage selector types are now up to date with the
harmonized certificate for Europe, as well as the consolidated certificate for North America and Canada.
For use in equipment used internationally, Schurter's voltage selectors take into consideration the country-specific mains voltage. The assortment of four different voltage selector configurations is perfectly suited to provide several voltage levels for analog power supplies, medical devices and highclass audio amplifier, or any other international installations using current supplied by a transformer.

Designed for rotary style switching, these voltage selectors either panel mount, with solder wire connections, or PCB mount depending on the type. Markings can be customized.
The four voltage selector variations offer configurations for either series or series-parallel circuits. The SWM and SWP are wired in series for use as step switches. The SWA and SWZ can be wired to switch between series and/or parallel circuits.
Enquiry Form: http://www.epreston.co.uk/enquiries.php
Home Page: http://www.epreston.co.uk/epblog/