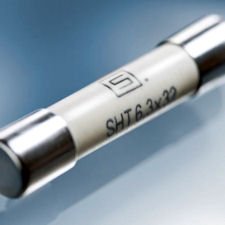 Schurter's SHT 6.3×32 fuse provides higher voltage overcurrent and short circuit protection up to 1500 A @ 500 VAC and 400 VDC in a universally accepted compact package size 6.3×32 mm, ¼" x 1 ¼". The compact high performance fuse is ideally suited for primary AC circuit protection in 3-phase systems, HVAC systems, lighting and other industrial building and automation systems. The new 400 VDC rating provides primary protection in DC power systems for intelligent buildings, telecom centers, server farms and related peripheral systems. The combined AC and DC voltage ratings along with a detailed listing of breaking capacity ratings, and other precisely defined performance specifications, offer a highly reliable fuse approved for use in both alternating or direct current power applications.
The SHT 6.3×32 is available as a standard fuse link in 16 rated currents from 1 to 32 A. Versions up to 10 A are offered with pigtail leads for direct mounting on printed circuit boards. The standard fuse links can be used in a variety of panel or board mount fuse holders or clips for easy fuse replacement. SCHURTER also offers a full range of high current fuse holders and clips, compatible with the SHT, as well as its fast-acting counterpart series SHF.
Direct compatibility with the most important competitive products, together with exceeding performance, makes the SHT 6.3×32 a form, fit, and function substitute product, as well as a fuse that fulfills newly defined application requirements, particularly those applications found in the area of DC power. The SHT 6.3×32 fuse is cURus approved and conforms to RoHS.
Technical Data / Approvals
– Certification according to UL 248-14, CSA C22.2 no. 248.14
– High breaking capacity (H) up to 1500 A at rated voltage
– High rated voltages up to 500 VAC / 400 VDC
– 16 rated currents from 1 A to 32 A
– Time-lag (T) characteristics
Application
– High-power 3-phase systems
– Building automation: heating, ventilation and air conditioning (HVAC)
– Photovoltaic: protection between inverter and grid
– Frequency converters and ballasts
– Power distribution for servers in datacenters
– Higher voltage DC telecom and intelligent commercial building applications
Enquiry Form: http://www.epreston.co.uk/enquiries.php
Home Page: http://www.epreston.co.uk/epblog/