NUMBER 1 IN EFFICIENCY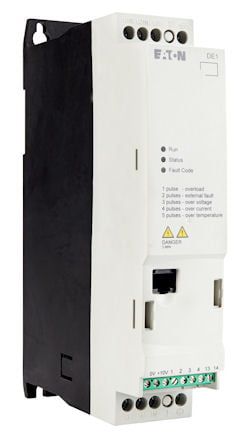 The New PowerXL™ series DE1 Variable Speed Starter bridges the gap between variable speed drives and conventional motor starters <7.5kW.
It's as easy to use as a contactor yet saves energy by adjusting the motor speed, with trip free operation. It's so simple, it runs out of the box!
It's also perfect for meeting the requirements of the ErP directive for motor efficiency.
Applications:
• Where regular variable speed drives are just too complex
• Where direct on line starting is too harsh but full torque is needed
• Instead of a motor starter to meet the new EU directives
• Where you simply need a different motor speed
• Where you want to save money
Energy Efficiency and Cost Efficiency to the machine / application:
• Fast and error-free installation
• Commissioning Out-Of-The-Box (time savings up to 70%)
• Easy change from a motor starter
• No special drive skills or knowledge required
• Reduced efforts on technical support
• Integrated motor protection and short-circuit protection
• Compact side-by-side and horizontal mounting
• PDS category C1 with integrated EMC filter
Out-Of-The-Box Commissioning:
• Trip-free design for maximum machine availability:
– Auto-reset, – DC regulation, – DC braking, – PWM control
– Comprehensive motor protection
– 60°C ambient temperature (with partial derating at temperatures higher than 50°C)
– The optional DX-EXT-SET module can be used to easily change parameters with a screwdriver
• Modbus RTU on board, with optional SmartwireDT
• International standards (CE, UL, cUL, cTick, EAC, RohHS)
.
Enquiry Form: http://www.epreston.co.uk/enquiries.php
Home Page: http://www.epreston.co.uk/epblog/