Bulgin – an Elektron Technology connectivity brand – is proud to announce the launch of the latest addition to its extensive range of environmentally-sealed circular connectors – the Buccaneer® 7000 Series for mains power applications. Designed to offer rapid and secure mains power connectivity in harsh environments, the Buccaneer 7000 is remarkably compact for its 25A and 600V rating, and has been developed to provide excellent sealing characteristics to IP67, IP68 and IP69K standards.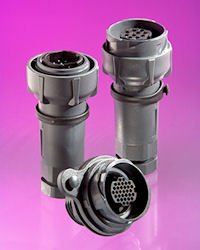 The all new Buccaneer 7000 Series features the Buccaneer range's tried and tested one-piece body construction, and has a unique twist locking system with positive feedback, providing quick and convenient, 'fit and forget' connectivity in less than quarter of a turn, without the need for technical expertise or specialist tools. Available in 2, 3, 6, 10 and 32 pole options, with a choice of fully interchangeable nickel plated, cast zinc alloy or UV-resistant, UL94-V0 flammability-rated plastic bodies, the Buccaneer 7000 Series will offer engineers and designers the greatest possible flexibility in system design.
Stuart Hutchings, Marketing Manager for Bulgin, commented: "The Buccaneer 7000 Series is designed for use across a broad range of demanding applications, from outdoor broadcasting and lighting to industrial automation and marine installations. These innovative connectors will provide a compact, cost­effective and, most importantly, easy-to-use solution that offers complete environmental protection."
German Casillas, Head of Connectivity at Elektron Technology, added: "The new Buccaneer 7000 series is another example of Elektron Technology's pioneering approach, combining many years of experience with emerging technologies to create comprehensive products that meet the ever­changing needs of the marketplace."
.
Enquiry Form: http://www.epreston.co.uk/enquiries.php
Home Page: http://www.epreston.co.uk/epblog/