30 New AC Output models are added to the DRA Series including models with economical lower operating voltage range and models featuring 2 switched phases, all in compact DIN Rail Mountable packages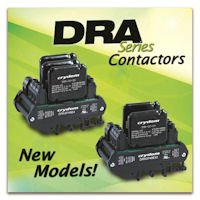 Crydom, a brand of Custom Sensors & Technologies (CST), is pleased to announce the availability of 30 new models in the popular DRA Series of AC output DIN Rail Mounted Solid State Contactors.
DRA Series 3 Phase Contactors now include new 2 switched phase versions particularly suitable for motor control circuits where the neutral connection is not needed or utilized.
DRA Series 3 Phase Motor Reversing Contactors now also include 400 VAC output voltage versions which maximize cost effectiveness when higher operating voltages are not required.
The 30 new DRA Series contactors have the same performance as previous models including 4 kV optical isolation, AC or logic compatible DC control inputs, both with input status indicators, UL approved AC motor and resistive load ratings of either 2.4 or 4.2 amps per phase. Motor reversing models also include a control interlock feature that allows only Off, Forward or Reverse operation.
.
Enquiry Form: http://www.epreston.co.uk/enquiries.php
Home Page: http://www.epreston.co.uk/epblog/