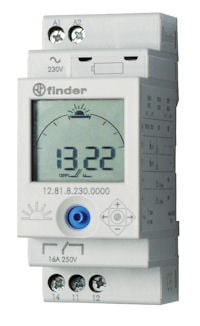 Where the need exists to control lighting, temperature or other functions according to daylight hours, Finder's Astro 12.81 time switch is an innovative, easily programmable time switch, which employs a unique digital program to calculate sunrise and sunset times by simply entering the location's postcode with a single joystick. Its newest version now offers added flexibility, with the capability to override the Astro ON time with time-switch settings, thus further avoiding energy wastage.
 
With ever increasing pressures to reduce energy consumption, the Astro will control lighting, heating/cooling and humidity equipment in commercial, residential and industrial applications wherever sunrise and sunset times are critical in determining operational times, or where stipulated by local or national regulatory requirements.
 
The Astro's micro-controller stores postcode data from 16 European countries, including the UK, which together with date information allows for the precise calculation of seasonal sunrise and sunset times. The Astro is also programmable using geographical coordinates, settable between 30°S and 64°N; 16°W and 50°E. The Astro will also automatically compensate, should European Summer Time be enabled.
 
For further versatility, the output switching can be advanced or retarded about the calculated sunrise (or sunset) time in 10-minute increments—up to a maximum of 90 minutes. A manual override of the output status allows for maintenance or one-off events.
 
With a 16 A 250 V AC rated output contact and a 120 A 5 ms peak current rating, the Astro time switch is capable of directly switching 2000 W halogen, 750 W compensated fluorescent, 200 W CFL or LED lamp loads and AC15 loads up to 750 VA.
 
The integral back-up battery, which is easily replaceable from the front, features an automatic power save mode which helps extend battery life.
.
Enquiry Form: http://www.epreston.co.uk/enquiries.php
Home Page: http://www.epreston.co.uk/epblog/