Crydom is pleased to announce the introduction of the new S1 "Generation 4 (Gen 4)" product line which updates Crydom's classic 3rd Generation S1 line. While continuously improved, the S1 family has been in constant production for over 40 years. They have now been revised to  incorporate the latest in materials and technology, resulting in a new benchmark in Solid State Relay performance and reliability.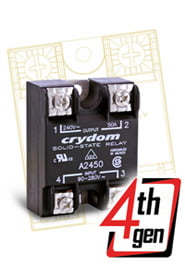 Key new features and benefits of Crydom's Generation 4 Solid State Relays include:
• Improved SEMs screw termination
• Direct lead frame termination
• Improved and enhanced specifications
• Epoxy free construction
• Improved (reduced) thermal impedance
• Improved housing and wire capture barrier strips
• Improved trigger circuit
• PEP: Product Environmental Profile Report
• New KS101 touch safe cover
• New 6 digit Date Code format: (year/week)
.
Enquiry Form: http://www.epreston.co.uk/enquiries.php
Home Page: http://www.epreston.co.uk/epblog/