To facilitate greater integration of controls and automation in building services, Finder has expanded its 22 Series modular contactor range to include 4 pole versions rated at 40A and 63A.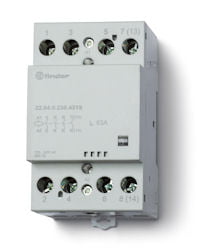 The AC/DC coil with varistor protection has a virtually silent operation, thus is suitable for residential, hospital, hotel and commercial installations.
 
The new 22.44 and 22.64 models use AgSnO2 contact material capable of handling maximum peak currents up to 240A, making them particularly suitable for high inrush current loads such as electronic lighting ballasts.
 
Equipped with 4-pole, 3mm gap, double break contacts in multiple configurations, specifically 4NO, 3NO + 1NC and 2NO + 2NC, rated up to 5000W for incandescent or halogen lamp loads and 15kW for 3-phase motor loads, these units are ideal for heavier commercial applications including single and 3-phase pumps and motors used in heating and ventilation systems.
 
Protective separation between coil and contacts provides reinforced insulation for safety, as required by many domestic and commercial standards/codes of practice.
 
Fitted with a mechanical indicator for visual operational status the 22 Series provides a compact, quiet, high power multi-pole switching solution for all areas of residential and commercial, services, and industrial sectors.
.
Enquiry Form: http://www.epreston.co.uk/enquiries.php
Home Page: http://www.epreston.co.uk/epblog/