Schurter is expanding its successful UMF 250 SMD fuse series with nine additional rated currents. With this extension, the series is now complete with rated currents ranging from 500 mA to 10 A. The compact, quick-acting SMD fuse thus provides overcurrent and short circuit protection for an even wider range of applications.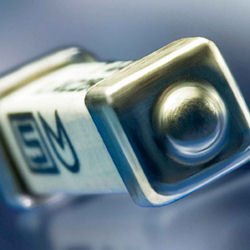 Schurter now offers the UMF 250 in a total of 14 rated currents between 500 mA and 10 A. The SMD fuse is well suited for voltages up to 250 VAC and 125 VDC. It features a high breaking capacity of up to 200 A at rated voltage. These features and more make the square-shaped UMF 250 a compact alternative to traditional 5×20 mm cartridge fuses.
The UMF 250 is suited for primary and secondary protection on SMD circuit boards. Applications of the device include, for example, power supplies, medical and lighting equipment as well as electronic devices used in the home and in industry. As a halogen-free fuse that conforms to RoHS, the UMF 250 is compatible with lead-free soldering processes. In addition, it has VDE and cURus approvals. By meeting the internationally recognized IEC 60127-4 standard, the UMF 250 serves as a universal modular fuse (UMF) link for use around the world.
Features and benefits:
– 14 rated currents from 500 mA to 10 A
– High rated voltages of 250 VAC / 125 VDC
– High breaking capacity of up to 200 A at rated voltage
– Quick-acting (F) characteristics according to IEC 60127-4 (Universal Modular Fuse)
– Compact, square design (10.1 x 3 x 3 mm)
– Halogen-free and RoHS-compliant
Applications:
– Primary Protection on SMD PCB
– Secondary Protection on SMD PCBs
– Industrial electronic
– Medical equipment
– Power Supplies
– Lighting
.
Enquiry Form: http://www.epreston.co.uk/enquiries.php
Home Page: http://www.epreston.co.uk/epblog/