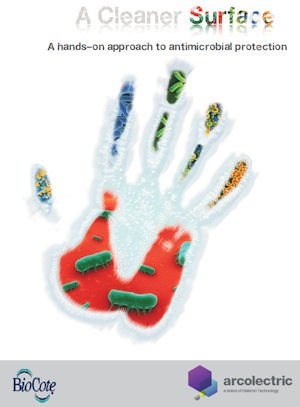 Elektron Technology is proud to partner with BioCote Ltd, to offer a range of antimicrobial products; BioCote® inhibits the growth of microbes on the surfaces of the following Arcolectric products:
* Push Button Switches
* Rocker Switches
* Switch Covers
Why Do We Need Antimicrobial Protection?
Microbes and can be found in any environment, as a natural part of everyday life. Even in the cleanest of surroundings, microbes begin to multiply on surfaces, sometimes to harmful levels, with one microbe having the ability to multiply to more than four million microbes within only eight hours.
BioCote technology gives the product constant, built in antimicrobial protection providing a finish that helps prevent microbes growing on the surface. BioCote protected of potentially harmful bacteria, making the need for hygiene vital, to help prevent cross- contamination.
BioCote Technology
BioCote Ltd is the market leader in providing built-in antimicrobial surface protection. Utilising the power of silver, a natural the time of manufacture. The silver technology then gives the surface of the product constant, built-in antimicrobial protection, providing a finish that helps prevent microbes growing on the surface.  With BioCote protection, the Arcolectric range of products surfaces provides protection 24 hours a day.
A Complement to Cleaning
BioCote complements hygiene practices, working in-between cleaning, 24 hours a day to reduce levels of microbes on surfaces.  BioCote antimicrobial technology has a variety of beneficial properties, making it an ideal alternative to synthetic, organic chemicals:
* Non-toxic
* Naturally occurring, environmentally-friendly and sustainable
* Will not break down, wear off, wash off or leach out of products over time
* BioCote retains its antimicrobial efficacy for the expected lifetime of the product
* Does not function in the same way as antibiotics, therefore, there is no known evidence to suggest that bacteria are resistant to it
Natural & Safe
BioCote utilizes silver ion technology. Silver is a natural antimicrobial, with a high efficacy against microbes, mould and fungi. Silver has been used for centuries for its abilities to aid preservation and help prevent infection. Silver is non-toxic, naturally occurring and environmentally-friendly.
.
Enquiry Form: http://www.epreston.co.uk/enquiries.php
Home Page: http://www.epreston.co.uk/epblog/