Honeywell's Limitless™ product line uses the latest commercial off-the-shelf wireless technology and is now expanding the WLS Series to convert almost any electromechanical switch with low-energy contacts (i.e., gold) into a wireless switch. A user-supplied electromechanical switch is simply wired to the WLS Series Single Switch Adapter via the internal or external connections to then become a wireless-enabled switch for use with the Limitless™ WPMM or WDRR Series of monitors/receivers. The Limitless™ Single Switch Adapter can be used in a variety of industrial wireless limit switch applications such as reed, contact, pressure, door actuator, etc.
The Limitless™ Series is especially beneficial for remote monitoring applications where wiring or wire maintenance is not physically possible or economically feasible. Combining this greater flexibility with proven harsh-duty packaging can result in increased efficiencies and improved safety for machines, equipment, OEMs, and operators.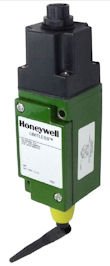 FEATURES
Wireless Design
• Radio (license-free and global): WPAN 802.15.4, 2.4 GHz, point-to-point
• FCC 15, IC, ACMA, ETSI, COFETEL, WPC & IDA
• Up to 305 m [1000 ft] line-of-sight communication range when used with a Limitless™ WPMM Series wireless monitor or WDRR Series receiver module (sold separately)
• Reliable, flexible, and secure wireless transmission
• Standard replaceable battery with ultra-low power consumption
• Direct or remote mount antenna options
Mechanical Design
• IP67; NEMA 1, 4, 12, 13
• 4 PIN M12 micro-change receptacle, cable grip with internal connector wiring options
• Internal battery power
• Body phosphate treated and epoxy finished with a 30 % glass-filled PBT plastic head
BENEFITS
• Allows almost any type of electromechanical switch with low-energy contacts (i.e., gold) to become "wireless"
• Enables presence/absence detection in remote parts of application/machinery, where wiring is an issue or not feasible
• Ability to reconfigure multiple switches, which easily allows for adding, subtracting or relocating of the Limitless™ WLS Single Switch Adapters
• Reduced installation/maintenance costs with no wires, conduit, strain relief, clips, connectors, connection boxes, etc.
• Eliminates issues with wire connection integrity on moving equipment
• Consumes ultra-low power to prolong battery life
POTENTIAL APPLICATIONS
• Agricultural equipment
• Construction equipment
• Door actuation (up/down) switch
• Industrial machines
• Lifts
• Machine tools
• Packaging machinery
• Wireless warehouse operations
• Wireless electromechanical switch applications (i.e., pressure switch, reed switch, basic switch and/or limit switch)
.
Enquiry Form: http://www.epreston.co.uk/enquiries.php
Home Page: http://www.epreston.co.uk/epblog/