Honeywell is extending its Limitless™ WLS Series of Heavy Duty Wireless Limit Switches with an eyelet-pull operating head that can be used to attach a rope, cable or chain. It also can be used on cranes as an anti-two-block (A2B) switch.
The Limitless™ Series benefits remote monitoring applications where wiring or wire maintenance is not physically possible or economically feasible. Combining this greater flexibility with proven harsh-duty packaging can result in increased efficiencies and improved safety for machines, equipment, OEMs, and operators.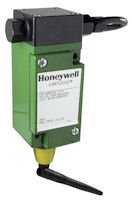 FEATURES
Wireless Design
• Radio (license-free and global): WPAN 802.15.4, 2.4 GHz, point-to-point
• FCC 15, IC, ACMA, ETSI, COFETEL, WPC, IDA, ANATEL, SRRC, and KCC
• Up to 1000 ft [305 m] line of sight communication range when used with a Limitless™ WPMM Series wireless monitor or WDRR Series receiver module (sold separately)
• Reliable, flexible, and secure wireless transmission
• Long-life standard replaceable battery
• Direct or remote mount antenna options
Mechanical Design
• IP67/IP68; NEMA 1, 4, 6, 6P, 12, 13
• Unique all-metal drive train
• Zinc head and body are phosphate treated and epoxy finished
• Tested to 750 lb of pull force
• Captive head and body screws
BENEFITS
• Enables presence/absence detection in remote parts of application/machinery, where wiring is an issue or not feasible
• Ability to reconfigure multiple switches that easily allows for adding, subtracting or relocating Limitless™ WLS switches
• Reduces installation/maintenance costs with no wires, conduit, strain relief, clips, connectors, or connection boxes
• Eliminates issues with wire connection integrity on moving equipment
• Consumes ultra-low power to prolong battery life
POTENTIAL APPLICATIONS
• Cranes: A2B (anti-two block) switch
• Rope-pull: door activation switch
• Cable pull for production stop applications (e.g., quality, broken tool, maintenance, out of parts); not applicable to human safety-stop applications
.
Enquiry Form: http://www.epreston.co.uk/enquiries.php
Home Page: http://www.epreston.co.uk/epblog/